Week 06:
A week of physical contact
Giorgia
The topic:
This week we got personal and we traced our physical contacts: yes, every single time we would touch somebody or be touched, even if accidentally. I decided to also include which part of the bodies touched during the contacts – that was a bit crazy and complicated actually, but I am pretty sure my data are almost accurate. My boyfriend and some friends were doing crazy things to spoil the data, and I of course reported them with a special mark.
Data gathering:
This week I have been thinking that our weekly collections are meant to explore and talk about little aspects of me to the other, and that actually the data are the excuse for the drawing.
Data drawing:
Since Stefanie and I are both designers, she gets who I am from the whole piece, and not only from the data: I am telling more about myself with the way I every time draw the data and the images I have in mind than through the data itself!
So I wanted to try something a little bit different and I mocked-up a sort of "body-shape" to represent my physical contacts, even if I don't really like the aesthetic of the outcome I still think it has a valid structure!
Stefanie's mind:
(By the way, I love Stefanie's physical contacts card!! It is one of my favorites! I love how our minds work differently – she often thinks "circular" while I think "more linear"! Also, Stefanie is so hard on herself! Her postcards are always so beautiful and well hand-crafted but sometimes she seems not so satisfied about them, I think this highlights some traits of our personalities as well – If I enjoy the process of making, I tend to give myself leeway with the final results!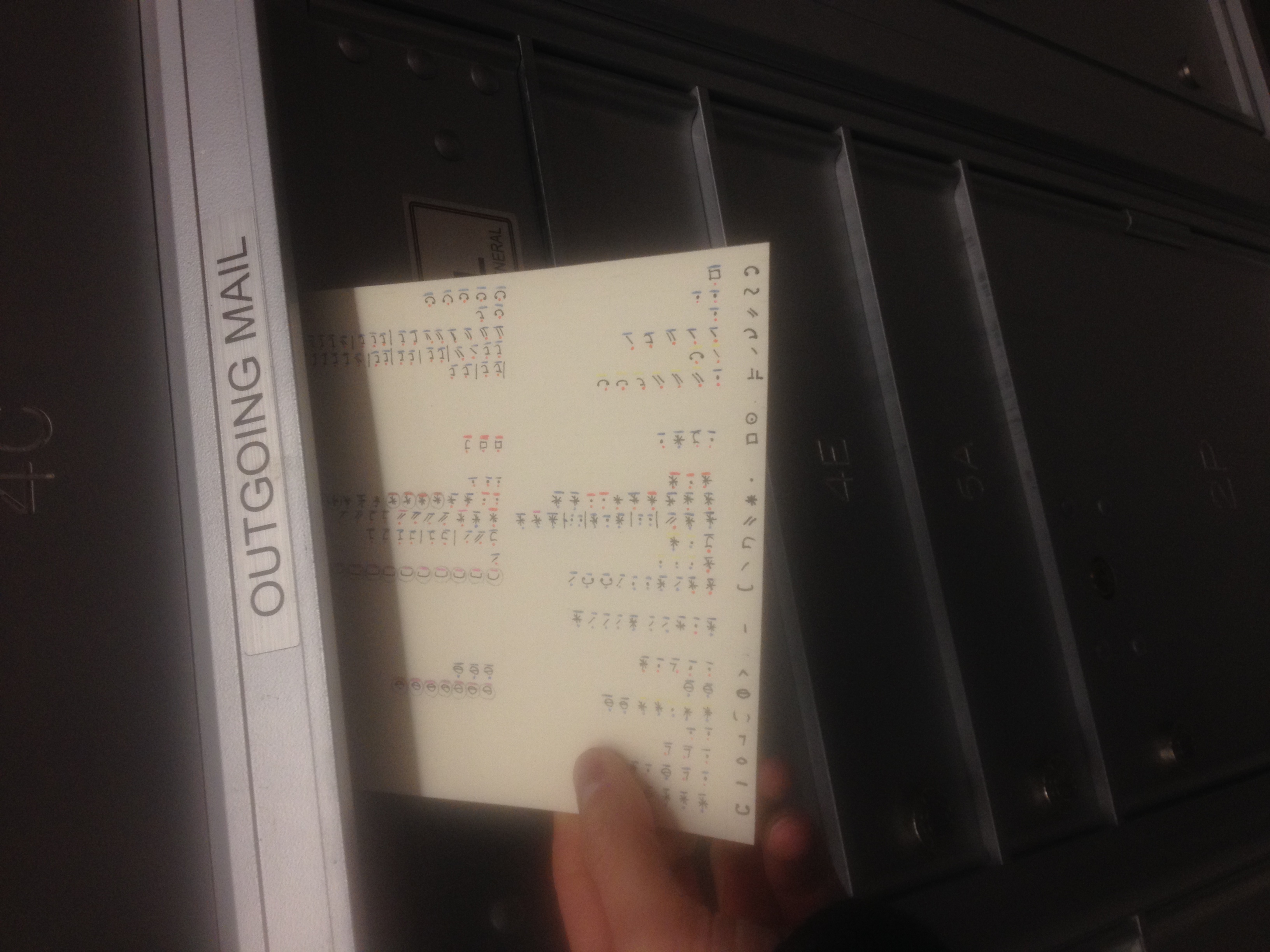 Stefanie
Data-gathering:
A week of physical contact ended with my parents visiting London, so I'm pleased that I was able to record some lovely reunion hugs with them, because I haven't seen them since the summer.
I only tracked contact that happened intentionally, otherwise it would be impossible to track all the bumps and jostles I get on public transport at rush hour.
Data memories:
People were beginning to manipulate the data by hitting and poking me. My mother hit me with her cane (ok, it was just a little tap), just after we reunited, in order to manipulate the data. What a great mom.
Data drawing:
This drawing puts my husband right in the centre (of course), with other friends and family around the outside. Reason for the floral design? The drawing didn't look right so I tried to 'fix' it by adding stems. Hmm, everything I tend to make with data ends up being quite floral; I'd like to move on from this. (I know Giorgia says I'm hard on myself, and she's right. Must remedy this)
However, the main reason that I am charmed by this week is less about the card and more about the data contained within. When I showed the complete drawing to my husband, he asked for a scan of the postcard so he could have a record for himself. I like how by gathering and visualising data about my relationship, the data becomes an emotional record, and becomes invested with quite an intimate meaning. By giving him the card I'm effectively presenting to him a previously-invisible texture of our relationship, a data token of affection.
But because of the intimate nature of the data I'm tracking, it's made me think about what data about myself (and my husband, friends, and family) I'm willing to reveal on the internet.
Obviously, so much of the physical contact I track is related to my husband, and of course, from marriage one can assume certain types of physical contact (ahem). I end up tracking all the data quite honestly for my records, but then re-package and re-categorise the data slightly in the final drawing to ensure that 1: my husband has privacy and 2: that I have privacy. I don't mind sharing this data, but only so long as I choose what to share, I guess.
Surely a personal data project is definitive evidence that no one is neutral in how they present data…I don't think I am a total data exhibitionist, really.
Giorgia's card:
One of my favourite parts of Giorgia's card is that she differentiates between an American hug and Italian kisses. (Also: I love the little 'lips' symbol!)
PS: I find it so funny that Giorgia says that she allows herself more design leeway when she is making these cards, because to me, they just seem so neat and well-thought-out. Through this project, I've found it interesting how different we approach things: I am much more cautious and pessimistic, and Giorgia is confident and positive! I've definitely been reminded to be less cautious in my work after beginning this project.